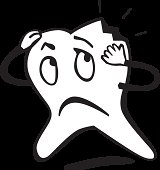 If you've chipped a part of your tooth, you're not in any pain and you can barely see it, it's safe to say you should be ringing up your dentist for an emergency appointment.
If you are in pain however, it could be a different story.  Although  it might just be initially to cover the pain considering how bad the tooth has broken; another thing to consider is how the tooth was broken ( if it was through an accident) and how badly are the gums and mouth damaged. All of these things can be taken into consideration when deciding if it's an emergency or not.
The worst case scenario when you have a broken tooth is that tooth will have to be replaced, whilst this is only done when the crack or break is very bad. You should always book an appointment even if the tooth has a small crack in it. It could lead to something that you would have to call an emergency appointment for.
All this being said, if you suffer from an injury or an accident and you are in any pain or discomfort, don't be worried about calling for help. Even if it's nothing, we'd rather help you than leave you worrying on your own.
If you've broken a tooth, please give North Van Dental a call.